Sage 300 ERP (Formerly Sage Accpac ERP)
Financial Accounting Software For Your Not For Profit or Business
In today's highly technical and automated market environment, selecting and implementing the right financial accounting software for your not for profit organization or business is one of the most important business decisions you will make.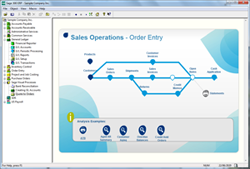 With over 15 years of extensive experience and knowledge of financial accounting software, we are convinced that Sage 300 ERP (formerly Sage Accpac ERP) is the right business management software choice for your not for profit organization or business, and your budget.

Sage 300 ERP (formerly Sage Accpac ERP) helps you dramatically improve your profitability by improving processes, collaboration between staff, partners, donors and your customers.

Highly customizable, cost-efficient and easy to use, Sage 300 ERP fits seamlessly into your organization or business, allowing for greater effeciency in the areas of finance, operations, services and customer relationship management (CRM). Internal and external communication is vastly improved with a single solution that streamlines both your daily and less frequent business operations.
Highly Configurable to Meet Your Specific Needs
Whether you need a highly customizable ERP program that includes on-site hardware and software, or simply a subscription-based, online software program, trust Thornegate Consulting to help you configure Sage 300 ERP to meet your business requirements today and into the future.
Accounting and Financial Software
Vastly reduce time and cost of accounting processes
Integrate your sales and service functions
Streamline end to end financial management
Reveal new opportunities with accurate and real time financial reports
Benefit from solid and comprehensive Business Intelligence
Make greater use of staff resources
Comprehensive Business Intelligence and Reporting
Boost productivity and profitability
Benefit from sophisticated workflow features and flexible personalization
Gain an accurate view of your business
Find new business opportunities
Reveal areas for improvement of internal processes
Improve staff productivity with highly user friendly and intuitive interface design
Customer Relationship Management (CRM)
Improve customer service and customer retention
Find new up-sell and cross-sell opportunities
Accurately track targeted marketing campaigns
Synchronize sales, marketing, and customer service activities
Manage relationships accurately, and confidentialy
Human Resources and Payroll Management
Easily handle simple or complex payroll functions
Accurately account for all pay frequencies and earnings
Track vacation time
Handle taxes and reporting for staff and third party resources
Manage employee benefits
Eliminate third party payroll processing
Time and Project Management
Allocate resources and budgets more efficiently
Enhance productivity and customer satisfaction
Make smarter, faster business decisions
Create and track project critical key performance indicators (KPI's)
Ensure optimal performance of projects and maintenance
Exceed customer expectations
Inventory Warehouse Management
Accurately track inventory
View timely warehouse data quickly
Align warehouse, inventory, production and service departments
Keep your operation running smoothly with real time data


---
Contact Us
Thornegate Consulting
Financial Software for Not For Profits, Small to Medium Sized Businesses
519-574-3793
sales@thornegate.ca
---
Additional Resources
Sage 300 ERP
Sage Brochures & White Papers
---
---
THE THORNEGATE DIFFERENCE
In today's technology-driven business climate, Thornegate is committed to delivering measurable value and the highest quality customer service.

We implement and tailor-configure ERP software such as Sage 300 ERP (formerly Sage Accpac ERP), Sage CRM, Project and Job Costing, Point of Sale, Payroll and HRMS and more to your unique situation, helping you gain better control and access of your business, while remaining competitive in this rapidly and ever-changing global economy.

For over 17 years, we have proudly served Not For Profits and small to medium sized businesses in Kitchener-Waterloo, Cambridge, Guelph, Mississauga the Greater Toronto and surrounding area.
---
---